Sustainability Philosophy & Mission
"Being a responsible corporate citizen by promoting our business aspirations whilst addressing the Economic, Environment & Social needs of our stakeholders"
Aiming to be a responsible corporate citizen
Upholding the highest standards of governance and ethics
Promoting sustainable business practices
Building and maintaining strong relationships with stakeholders
Limiting the negative impact of our business on the environment
Our Approach
Aligning sustainability measures to our corporate Vision and Mission.
Embedding sustainability considerations in our internal activities and external market offerings.
Cultivating the adoption of sustainability based on the Group's Sustainability Philosophy and Policy.
Generating positive economic, environmental and social impacts on our stakeholders.
---
Sustainability Pillars
Sustainability Policy
To ensure the Group's activities create long term value for all our stakeholders and at the same time address EES opportunities and risks. The Policy provides a clear statement regarding how the Group plans to advance sustainability across its different businesses and in the different sectors it operates in.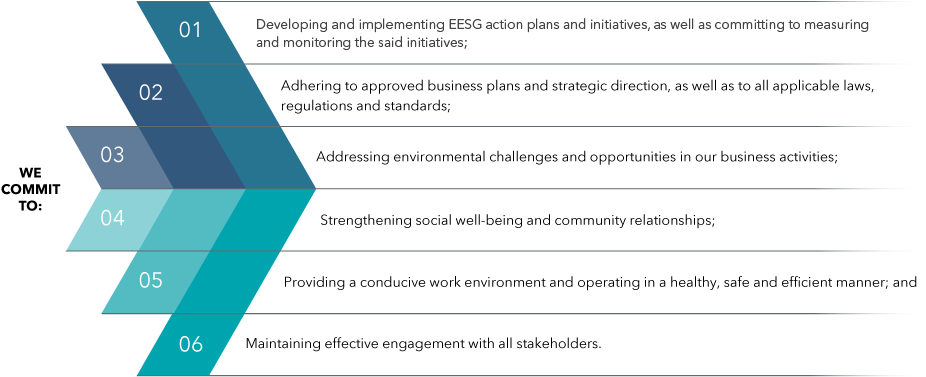 Sustainability Governance Structure
BOARD OF DIRECTORS
Board of Directors
Provides oversight on policies and strategies to embed sustainability initiatives into the Group's business.
Approves sustainability budget.
Approves Sustainability Report.
SUSTAINABILITY BOARD COMMITTEE
Sustainability Board Committee
Approves sustainability strategies presented by the Sustainability Unit.
Oversees the Group's implementation of sustainability programmes.
Approves implementation of sustainability programmes.
Prepares, reviews and proposes the sustainability statements for the Board's approval.
Oversees the management of risks related to sustainability.
Endorses budget for sustainability programmes.
CORPORATE SUSTAINABILITY CHAMPION
Corporate Sustainability Champion
Identifies significant ESS risks and opportunities.
Recommends the appropriate sustainability KPIs for all business functions in addressing the Group's material matters.
SUSTAINABILITY UNIT, INVESTOR RELATIONS & STRATEGIC COMMUNICATION
Sustainability Unit
Works with Business Units on how to embed sustainability.
Executes Sustainability Policy and Strategy in addressing the EES risks and opportunities.
Central point of contact for any interfaces with stakeholders on sustainability matters.
Oversees stakeholder engagement.
Reviews implementation of sustainability programmes.
Prepares budget for sustainability programmes.